South Dakota's Cold Weather Fun Facts
On February 17th, 1936, McIntosh, South Dakota, set a state record for the lowest temperature:  -58 F.
We might not break that frosty record this weekend but it will be cold. Very cold. Dangerous wind chills and advisories are once again posted through the area.
Here's a few fun facts to go with your hot cocoa this morning:
The coldest day in the United States on record was, no surprise here…Alaska. A little town called Prospect Creek Camp hit -80 F. on Jan. 23, 1971.
The coldest temperature on record in the "lower 48″ was set in Rogers Pass, Montana, where the overnight low hit -70 F. on Jan. 20, 1954.
The normally balmy Mauna Kea, Hawaii, actually hit 12 F. on May 17th, 1979.
Sioux Falls' coldest day on record was -42 F., actual air temperature, on February 9th, 1899.
In fact, it's so cold that:
…I saw a dog chasing a cat and BOTH of them were standing still.
…last night I heard a knock on the door and it was my snowman wanting to come inside to warm up.
…the squirrels can't keep their nuts warm.
…two penquins were in my yard til the polar bear ran them off!
…people form Fargo are coming down just to 'feel the burn'.
…I saw a lawyer with his hands in his own pockets.
… my Corn Flakes turned into frosted flake.
… I saw two Pine Beetles with jumper cables trying to get a mouse started.
…I just saw two gangsters walking around with their pants pulled up!
Finally, The cold is relative, isn't it?
65 above zero:
Floridians turn on the heat.
People in South Dakota plant gardens.
60 above zero:
Californians shiver uncontrollably.
People in South Dakota sunbathe.
50 above zero:
Italian & English cars won't start.
People in South Dakota drive with the windows down.
40 above zero:
Georgians don coats, thermal underwear, gloves, wool hats.
People in South Dakota throw on a flannel shirt.
35 above zero:
New York landlords finally turn up the heat.
People in South Dakota have the last cookout before it gets cold.
20 above Zero
People in Miami freak out.
South Dakotans close the windows.
Zero:
Californians fly away to Mexico .
People in South Dakota get out their winter coats.
10 below zero:
Hollywood disintegrates.
The Girl Scouts in South Dakota are selling cookies door to door.
20 below zero:
Washington DC runs out of hot air.
People in South Dakota let the dogs sleep indoors.
30 below zero:
Santa Claus abandons the North Pole.
South Dakotans get upset because they can't start the Snow-mobile.
40 below zero:
ALL atomic motion stops.
People in South Dakota start saying….'Cold enough fer ya?'
50 below zero:
Hell freezes over.
Aberdeen schools will open 2 hours late
How is the windchill or "feels like" temps measured? Wind speed + temperature = wind chill chart.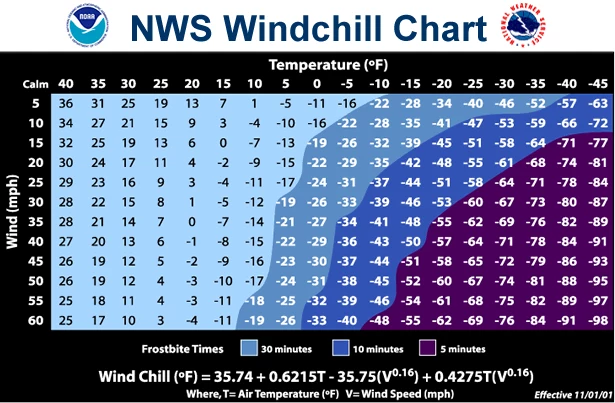 Weather data and record sources: City-Data.com, infoplease.com