Lil Wayne Co-Signs Drake's Contribution to Posthumous Aaliyah Album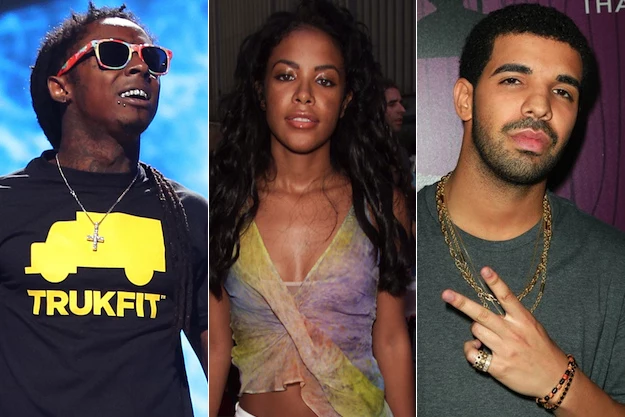 While not everyone is thrilled with the prospect of Drake executive producing the posthumous Aaliyah project, Lil Wayne has told the Associated Press (via RollingStone.com) that it's going to be an "awesome collaboration."
"Everybody knows what Aaliyah did and done for music and culture, period, and it's always good to do that, for not only for people like that, just for her fans — you know what I mean?" Weezy told AP. "Drake's a very thoughtful person. Everyone knows that. It's an awesome collaboration."
Although its been 11 years since Aaliyah has left this earth, Wayne says her music will always be everlasting. "Her music is still awesome. It's still better than a lot of music out right now," he said.
Details are still unclear about the posthumous album, with which, as of today, Aaliyah's go-to collaborators Timbaland and Missy Elliott are not involved. But Barry Hankerson, the uncle of the late singer and founder of Blackground Records, insists that the project is moving forward despite the backlash.
"We always expected an unpleasant welcome this album, due to the fact we have control over the estate and authoritative over royalties; we will be moving forward with this album," he tells That Grape Juice. "We never wanted the bad press that's come with the album. The family might have made statements about us not supporting their 'daughter' but the fan support and peaceful intent behind it is the reason we've decided to go forth with it."
"We've always been sympathetic to Aaliyah's mourning," he adds, "and we'll always love the graceful and angelic girl she was to the Haughton family. To us, she'll always be 'baby girl.'"
Hankerson also added that along with Drake and his producing partner Noah "40″ Shebib, Aaliyah's ex-fiancé, Damon Dash, is also assisting with the project as well.
"We really just want to give her fans new 16 unreleased tracks, in honor of her legacy and the fact this music deserves to be heard," he says. "Yes, today's market is more commercial, but Aaliyah has already left her mark in time, so we see this album as a way to just repave history. It's well overdue considering all the negative controversy that's surrounded her name since she [died]."
Next: See Aaliyah's Posthumous Album Art!
Watch the Aaliyah 'Back and Forth' Video Source:
Lil Wayne Co-Signs Drake's Contribution to Posthumous Aaliyah Album